At the club level, Cristiano Ronaldo has won everything there is to win. Still, he is criticized and constantly compared, not just to Lionel Messi, but to the greats of all time like Pele and Diego Maradona. In regard to the latter two, Ronaldo's critics love to mention that he hasn't won a major tournament for Portugal.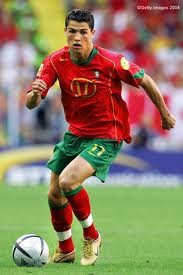 To be fair, his performances for his country haven't matched those for his clubs. He has been surrounded by more talent at Real Madrid and, before that, Manchester United. Former Portugal manager Carlos Quiroz did him no favors with his negative tactics either.
Thus far, Ronaldo has been the player of the tournament. I had no expectations that Portugal would survive the Group of Death. If he loses to Spain today, that should change nothing. Spain is supposed to win. Portugal did defeat Spain recently in a friendly, 4-0, but Spain took that game as seriously as a game of FIFA on X-Box.
Just because people remember Maradona leading what was considered to be a mediocre Argentina side to a World Cup, some expect Ronaldo to do the same. If Spain does win, get ready to hear this garbage. Portugal legends Eusabio and Luis Figo couldn't deliver a major championship either.
Perhaps Ronaldo's arrogance that he carries himself with attracts undue attention. His chiseled physique, model good looks and long string of bombshell WAGs maybe just inspires more jealousy. Hell, I think the guy is a douchebag half the time! None of that means he's less of a footballer if he does the improbable tonight.
Category: Uncategorized