You always want your favorite sports athletes to go out gracefully. Not everyone can go out a champion like John Elway. You at least want them to retire before it gets sad watching them. That's why it's painful to see Venus Williams play in 2012.
On Monday, Williams lost to Elena Vesnina in the first round at Wimbledon. Wimbledon is the same tournament where Williams won five championships and became one of the greatest female grass court players of all -time.
Vensina, who is ranked No. 79 in the world, had lost 10 of her previous 11 Grand Slam singles matches prior to Monday's match. Vesnina is someone Williams would have beaten in straight sets two years ago. Today, Williams just looked like a player who should have retired a year ago when her health took a turn for the worse.
The five-time champion has been suffering from Sjogren's syndrome, a disease which the immune cells attack and destroys exocrine glands that produce tears and saliva. The disease is also said to reduce energy, which could explain Williams' performance in 2012.
Williams withdrew fr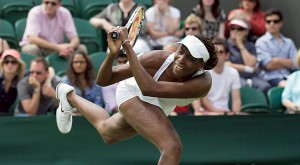 om last year's U. S. Open after she was diagnosed with and did not return to tournament play until March. She has made the quarter-finals three times since coming back, but only reached the second round of the French Open.
After today's loss, Williams refused to answer questions about her health, saying simply, "I did my best today. My opponent played well." She also said, "Life is challenging. I'm always up for a challenge."
Even if Williams is past her prime, no one imagined she would go out like this. Not only did Williams win Wimbledon titles in 2000 and 2001 when she was in her prime, but she also won in 2005, 2007 and again in 2008, over her sister Serena Williams in the final. Her last major victory came in 2008.
The Olympics will be played at Wimbledon in a little over a month, but Venus says she will be there, despite her 2012 struggles. "Yeah," Venus said, "at the Olympics, you'll see me here."
Remember how sad it was to see Brett Favre's consecutive-game streak end due to injury? Remember how poorly he played in 2010? I don't want to see Venus go through the same thing. She has nothing else left to prove to anyone. She is a sure-fire Tennis Hall of Famer and one of the best female tennis players of all time. Everyone knows how hard of a worker Venus is and how determined she is, but even her pride can't get in the way of father time.
Williams just turned 32 on June 17 and that is ancient in tennis years. With Williams suffering from Sjogren's, I believe 2012 will be her last year on tour. When her sister, Serena, is focused, she is still one of the best in the game, but the game has passed Venus by.
I just hope Venus takes a long hard look in the mirror and realizes that she shouldn't be losing in the first round of major tournaments. Venus, it is time to retire.
Category: Uncategorized