Archive for June, 2012
Rajon Rondo's performance in the Eastern Conference Finals has been underappreciated. All I read about still is LeBron James or Russell Westbrook's 9-assist game that was spotlighted on ESPN's First Take. LeBron James' 40-point performance against Indiana was also analyzed and praised, but still, nothing on ESPN's First Take about Rondo. There have only been a few articles here and there, but nothing mainstream about it. He only did something that has never been done before in the postseason, and had a 44-point, 10-assist, 8-rebound and 3-steal performance. That's right, Larry Bird never did it, Magic Johnson never did it, Michael Jordan never did it and Wilt Chamberlain certainly never did it (he could pass and led the league in assists during the 1967-1968 season).
This performance was overshadowed by the fact that the Celtics lost the game. LeBron James, who is widely considered the best player in the NBA, had this to say about Rondo's performance: "Rondo was absolutely amazing. The performance he put on tonight will go down in the record books."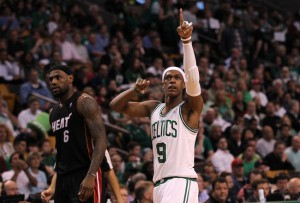 Almost every superstar in the NBA has a moment or game when the world takes notice of them and realizes how unbelievably talented they are. For example, when I think of Jordan, I don't think about the flu game. I think of the 63-point performance he put on against one of the greatest teams ever, the 1986 Boston Celtics. Coincidentally, Jordan's performance was in a losing battle as well. Paul Pierce's moment came during a regular season game when the most dominating center in the NBA, Shaquille O'Neal, let the world know that the Lakers couldn't handle The Truth. I also, think of the 2008 NBA Finals when he dominated the league's MVP and best player, Kobe Bryant.
Wilt Chamberlain had his 100-point game. Magic's moment was when he played center in Kareem Abdul Jabbar's absence in Game 6 of the 1980 NBA Finals. Larry Bird told Kevin McHale he should've scored 60 when McHale set the Celtics single-game scoring record. Bird proceeded to do it himself and break McHale's record one week later. Bill Russell doesn't have just one game; he will always be remembered for his 11 championships and eight in a row – both records that will never be broken.
Game 2 of the Eastern Conference Finals was Rondo's defining moment. He let the world know what Celtics fans already know – that he is the best pure point guard in the NBA, no doubt about it. There isn't a single player in the NBA who can do what he does. He is special and talent like that only comes around once in a while. I'm not talking LeBron James talent, I'm talking Magic Johnson and Larry Bird potential. He has the ability to control the game without scoring. No player has been able to do that since Magic and Bird hung 'em up. Rondo makes everyone around him better. This is not a knock on LeBron, who is crazy talented, but LeBron can't alter the game the way Rondo can. Nobody in the NBA can when Rondo plays like this.
People talk about what the future Celtics will look like when the Big Three of KG, Pierce and Sugar Ray are gone. Well, I think you got a good glimpse; they will be just fine, as long as Rondo is there. Do yourself a favor and go look up highlights for this game so you can fully understand how great this performance was. It deserves to be watched again and immortalized because it is the stuff of legends.