On Friday, Tampa Bay Rays pitcher Joel Peralta was suspended eight games for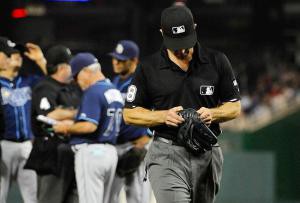 coming into a game with pine tar on his glove. This whole fiasco went down on Tuesday, when the Rays were in D. C. taking on the Washington Nationals. Peralta had just entered the game in relief of David Price. While throwing warm-up pitches, Nationals manager Davey Johnson approached home plate umpire Tim Tschida, which everyone thought was a bit out of the ordinary. After their pow-wow, Tschida headed to the mound and inspected Peralta's glove.
Upon finding pine tar, Peralta was immediately ejected from the game; before exiting the ballpark, however, the reliever tipped his cap to the bench of his former team. Granted, MLB rules clearly state that pitchers may not apply foreign substances to the ball or have any such substances in their possession, I find myself in agreement with Joe Maddon. Knowing full well his pitching habits from when he played for Washington, Peralta's former teammates made sure to tell Johnson about the likelihood that he would have pine tar on his glove.
But, what really boggles my mind is that the league considers using a foreign substance to be a worse offense than admitting to beaning an opposing player on purpose – which Cole Hamels did to Bryce Harper. Hamels, who claimed the incident to be his version of welcoming Harper to the majors, only got a five-game suspension out of the deal, which ultimately only resulted in one missed start. Yes, cheating is wrong, but the punishment really needs to fit the crime. If Hamels got five games, Peralta's punishment is absolutely ludicrous. But I digress …
I can understand the reasoning behind wanting to use insider information to gain an edge, but the guilty party must have to be willing to pay the price. Like Johnson, If a ballplayer – or manager, in this case – essentially breaks a set of unwritten rules, he will, undoubtedly face some sort of wrath from colleagues. Personally, the way things went down with Peralta, I think Maddon had every right to call Johnson's actions "cowardly." But I'm curious to know what other people think. Is it an act of cowardice when you betray a gentlemen's agreement or does the old "all's fair in love and baseball" saying apply here?
Category: Uncategorized