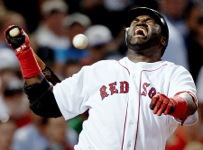 David Ortiz went on another one of his now patented rants on Thursday. The WEEI.com headline is that Ortiz says he isn't having fun in Boston. Can you blame him? It is a new and different shit-show every day at Fenway Park. If I was David Ortiz, I wouldn't find having to deal with the constant drama that surrounds this team to be fun either.
Most of this drama has nothing to do with him. He wasn't in the chicken and beer crowd. He didn't piss away hundreds of millions of dollars on free agents who have literally contributed less than nothing. He didn't force the new general manager to hire a manager he didn't want, then sit idly by as the manager was undermined publicly by the GM. Nor is Ortiz responsible for the dysfunction amongst the coaching staff, which Buster Olney and Sean McAdam have alluded to.
Boston is become the "shit-hole" team it used to be. Forget your father's Red Sox, these are the Red Sox I grew up with. It was dysfunction like this that was the real reason why this club went 86 years without winning a World Series. Those of us who remember how this team could never get out of its own way thought we were finally beyond this after the Yawkey stink was removed from this franchise. Unfortunately, John Henry, Tom Werner and Larry Lucchino have managed to reinvent the wheel in that regard.
At least on the field, the club has managed to turn things around. They are three games over .500 and several of their injured stars are getting close to coming back. This team may well be primed to make a push for one of the Wild Card spots. Either way, I doubt it will be without drama.
Category: Uncategorized