After 143 winless races, Dale Earnhardt, Jr. proved yesterday that he can still find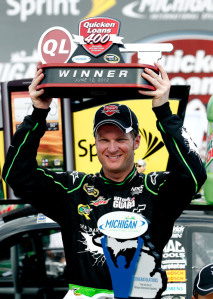 his way to Victory Lane. After four years without a win in the Sprint Cup Series, Dale beat Tony Stewart quite handily, finishing 5.393 seconds ahead of the No. 14 Office Depot Chevrolet. He dominated the 200-lap Quicken Loans 400, leading 95 laps; no other driver led more than 38 laps.
With 11 top 10 finishes before Sunday's win, this could prove to be Earnhardt's year to finally win it all in the Chase for the Sprint Cup. He is second in points behind Matt Kenseth, but it's still early in the season. It seems, after a few inconsistent years, that Junior has finally started to find his footing once again with Hendrick Motorsports. When he made the move to the colossal NASCAR conglomerate in 2007, teaming up with the likes of Jimmie Johnson and Jeff Gordon, I was skeptical, to say the least. I thought he might be overwhelmed or get lost in the shuffle, but it appears that their leadership and success has rubbed off on the 37-year-old.
I haven't watched a whole lot of NASCAR in the past couple years, but I hate seeing a fan favorite like Earnhardt, Jr. struggling while arrogant pricks like Johnson and Kurt Busch have constant success … when Busch isn't suspended, that is. And don't even get me started on Stewart's thoughts about Earnhardt, Jr. snapping his losing streak. No, Tony, it's not a national holiday, but at least show some respect for your fellow racecar driver. Now I know why I've always hated that jerk.
Category: Uncategorized