The 2012 Celtics team makes Boston fans proud. It's a team that lives by the motto best stated by none other than the great Kevin Garnett, "grit and balls" – that's how they win, with grit and balls. The Celtics are a team that, time and time again, prove all the so-called analysts wrong.
When no one gave them a chance to get to the 2010 Finals and defeat King James of the Cleveland Cavaliers, they did. No one talked about how Paul Pierce, the 2008 Finals MVP, who earned that honor by destroying the regular season MVP, Kobe Bryant, was going to be handled. Last time I checked, LeBron didn't have one of those. The 2010 Celtics took the Lakers to a Game 7 and were minutes shy of winning another title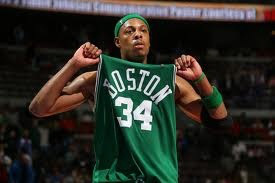 .
In 2011, once again, they were disrespected. This time, they were defeated in the second round of the playoffs by the despised Miami Heat, who were aided by Rajon Rondo's injury – an injury, if not for Dwayne Wade's questionable play, should never have happened. I'm not saying Wade is dirty; I'll let you form your own opinion on that. Rondo, being the warrior that he is, came back and played with one arm.
The players on this team do not give up. That same core of those prior teams makes up this team, and they refuse to quit, no matter the reason, even if that reason is injuries. The 2012 team has been plagued with injuries all season. They lost Jeff Green and Chris Wilcox to heart conditions, Pierce has an injured knee, Ray Allen has bone spurs in his ankle and is a shell of himself, and Avery Bradley had surgery on both shoulders … yet, the team continued to play with no excuses.
The 2012 Celtics were cast off as road kill and everyone was yelling for them to be broken up. There was talk of trading Rondo, Pierce and Allen. Say what? You are going to trade Paul Pierce, the 2008 Finals MVP, and everything that embodies a Celtic? You want to Trade Jesus Shuttlesworth (Allen), the greatest three-point shooter in the history of the NBA? "Oh, Rondo is cranky, let's get rid of him too!" He is only the best pure point guard in the NBA. He went out and won the assist title.
Here we are again. That team you wanted to just throw away is in the Eastern Conference Finals. The media have already declared Miami the winners, so we should just tell the Celtics to go home? Wow, Miami won one game, the first home game in the series. Aren't they supposed to win that game? All I know is Miami played almost as good as they can, while the Celtics played terrible and for most of the game it was still close.
Let's not discount the impact the officiating had on the game either. It had a huge impact in the third quarter and that is when the Celtics started to lose focus. Yes, Allen and Bradley are injured and, if they were healthy, the Celtics would put a hurting on this team. Unlike teams like Miami, who made a big deal about Chris Bosh being injured, the Celtics don't except that as a viable excuse. No, they will fight with every last breath because they don't know the meaning of quit. That is why Celtics fans should be proud. They play because they love the game and treat it as life or death. Red would be proud.
Category: Uncategorized